In 1998 Ruth Harris, a former nurse and teacher with a passion for art, decided to make a bold move. She opened an art school in downtown Bremerton with two students. The school focused on drawing instruction. The small art school began to thrive as students throughout Kitsap County attended classes, growing their love for art and developing both artistic and life skills. In 2000, Ruth wanted to make art more accessible. She moved the school to its current Silverdale location and expanded to new locations. Thinking outside the walls of the school, Ruth and her staff also brought art instruction to Juvenile Hall, community events, and in-home parties. By 2007 the school changed its name to Kitsap Art School of the Arts and was now teaching other media beyond drawing.
Before the pandemic in early 2020, the school was purchased by another visionary woman, Sarmila Basu, a Microsoft executive, former Kirkland Art Center board member and passionate supporter of the arts.
She changed the name to Kitsap Art Center and during her three years of ownership worked to provide exciting art opportunities to Kitsap County in spite of the challenges of the pandemic.
In August of 2023 Sarmila chose to step into retirement and sold the business to two women who have had a huge part in making Kitsap Art Center what it is today.
Cassandra Farrell has been an instructor with Kitsap Art since 2010 and has worked with artists of all ages and skill levels, developing curriculum that is both exciting and challenging during her tenure.
She partnered with Mary Kunish, a life-long Kitsap County resident and integral part of the Kitsap Art Center office staff. Mary's connections in the community and business knowledge, combined with Cassandra's artistic vision is a combination guaranteed to excite the local art community.
We passionately believe that there are no mistakes in art. Kitsap Art Center is a safe space with no judgement or competition, where students are encouraged to draw and create for themselves using the fine art skills learned through our curriculum. In this environment, students have room to explore and develop problem solving and critical thinking skills, leading to greater focus, concentration, and self-esteem.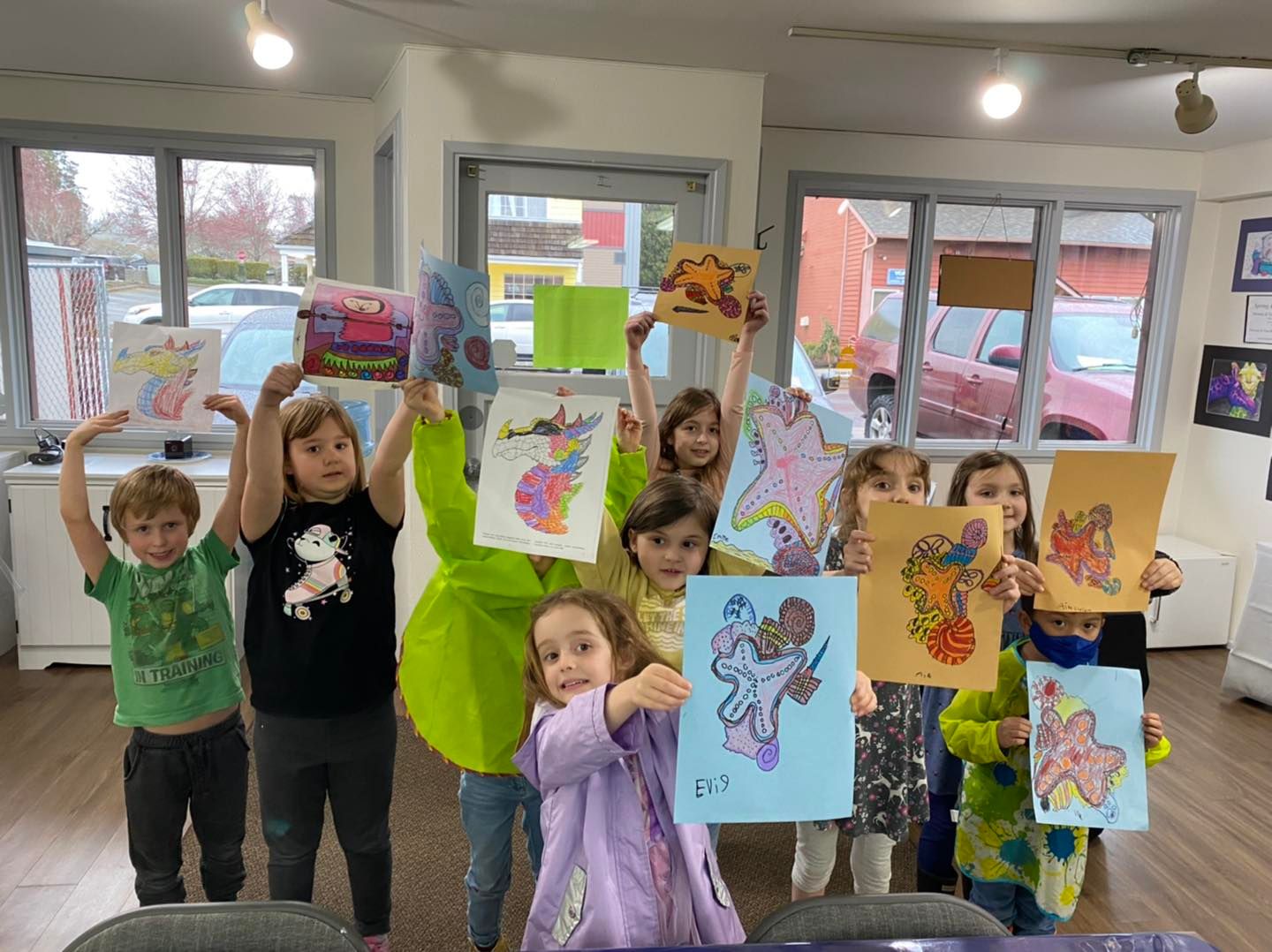 "To provide a judgement free environment for all ages of the community to discover, develop and enjoy a life-long passion for the arts with total positivity and endless creativity"
There is no wrong way to do art.
Artists never like all their work.
A Collection of Artworks Created by Our Brilliant Students